Ready to buy your next used car? You may be wondering whether you should visit a used car dealership or buy from a private party. Fortunately, you're not the only shopper near Hardeeville, Bluffton, or Hilton Head Island looking for an answer to that question.
Is it better to buy a used car from a dealership? At Peacock Used Cars & Trucks, we want to show you the advantages associated with choosing a dealer for your transaction. There are several benefits, and we're excited to share them all with you!
A Wider Selection of Used Cars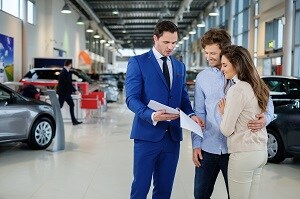 This may seem intuitive, but it's worth saying: You'll find a much larger selection of cars, trucks, and SUVs to choose from when you visit a dealership. As much as you may like a model that a private party is selling, you may find even more enticing vehicles after just a few minutes of browsing cars at a dealer online.
You'll find used cars, certified pre-owned cars, and even some car models that are no longer in production. With such a wide variety of used cars, you're sure to find something with the exact features and capabilities you need.
Fully Inspected by Technicians
When you purchase a used car from a private party, you're always taking a gamble as far as quality. Even if you've taken it for a test drive and looked under the hood yourself, you won't really know what kind of condition it's in without a full inspection.
Generally, used cars from a dealership have been totally inspected and repaired. If you're shopping for certified pre-owned cars, you'll find an even more thorough inspection and restoration process in place.
Those inspections are carried out by certified technicians, so you can have confidence in their results. Plus, you'll have greater legal protection when you shop from a dealership. If you purchase a lemon or end up with an undisclosed salvaged vehicle, you'll have options for recourse that a private seller doesn't offer.
More Perks of Choosing a Dealer
If you currently drive a car you're planning on selling, you can kill two birds with one stone at a used car dealer. When you trade in your current vehicle, the value you get can go toward your "new" (to you) car's down payment.
You'll find a more streamlined experience, too. Dealerships generally handle all the paperwork that goes along with ownership or title transfer and registration for you. Plus, you'll have access to the dealership's financing options, which can make closing the deal simpler.
If you buy certified pre-owned, you'll usually get an extended warranty for your car that offers you coverage for unexpected repairs. These are all part of the dealership experience-and a private party just can't compete.
Browse Our Selection of Used Cars in Hardeeville SC Today!
So, is it better to buy a used car from a dealership? In most cases, for your safety and peace of mind, you'll find the best benefits when you choose a used car dealer for your business.
If you live near Hardeeville, Bluffton, and Hilton Head Island, you can search our full selection of used cars and certified pre-owned cars online. See what you like and schedule a test drive at Peacock Used Cars & Trucks before you make a final decision!